Is hair loss making you suffer? Do you feel awkward with your baldness when you are in a group?
Looks have only been an integral part of the entertainment industry in the early eras. Now it has spread to our day-day life as well. People are giving utmost importance to beauty and appearance than ever before. Perhaps you know, the most notable thing concerning your appearance is from your hair & hairstyles.
Reasons for hair loss are as vast as the view of an ocean. Lack of hair care, medical conditions, fungal infections, poor nutrition, lifestyle, climatic variations, atmospheric changes etc can all lead to hair loss. Hair loss is extremely tragic & stressful. Each time you lose a hair, you are in agony.
Finally a successful treatment for baldness
Dr Thaj Laser Skin Hair clinic offers various solutions to tackle your hair loss problem and baldness. Apart from a wide variety of laser treatments provided, we also do hair replacement, hair restoration, hair transplantation or hair grafting, etc. Hair transplantation does not require hospitalization and patients can return to work after four-five days. At our centre, hair transplantation is done by our dermato-surgeon, who has the credit of doing numerous hair transplantations successfully in a very less time. We do micro-graft, mini-graft and follicular unit transplantation. All hair transplantation treatments are simple outpatient procedures.
Hair Grafting
Before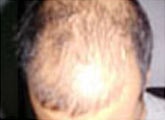 After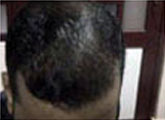 Hair Transplantation-the only permanent solution to baldness
Your approval for our new hair management strategy is absolutely must before we do the transplant process. Our dermato-surgeon will choose a fitting texture from the donor area, the density of each graft, and an appropriate variety of graft sizes to alternately maximize density (larger, traditional grafts) and retain natural looks (grafts of one to three hairs). Each graft is then skillfully placed in a proper position, at a precise angle that duplicates nature's own growth pattern. Dermato-surgeon at Dr Thaj concludes the restoration by carefully checking that your newly-placed hairs will grow together to form a hairline that is untraceable from the one that nature might have given you. We have now started doing hair grafting by manual method since we found this method gives better results.
Hair Transplantation
Before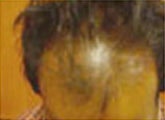 After