Having established ourselves as the leading laser treatment clinic in South India with 9 clinics across Kerala & Tamilnadu, Dr Thaj Laser Skin-Hair clinic offers an array of treatments in cosmetology. Microdermabrasion is one of our specialties which is a gentle treatment done for reducing wrinkles, fine lines on facial area, age spots, acne scars, sun spots, post traumatic scars and other blemishes occurred naturally and apparently. Microdermabrasion effectively lessens age related damage of skin due to sun exposure or trauma. It's affordable and reasonable compared to laser re-surfacing.
Microdermabrasion can help people who have:
Wrinkles, fine lines & age spots
Acne & Chicken-pox scars
Stretch marks of pregnancy
Post traumatic scars
Countless Black & white heads
Oily Skin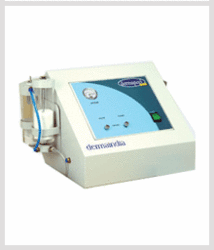 Experienced hands @ Dr Thaj usually combined Microdermabrasion with chemical peels or laser skin resurfacing to obtain the best results. Since microdermabrasion is highly effective and long lasting than facials, we have many clients with no certain skin disorders who wish to undergo this procedure to improve the look and feel of facial skin. Microdermabrasion is a non-invasive procedure and requires no anesthesia. Patients feel well and comfortable after the first session itself. The patient can receive as many treatments as they want with little or no side effects and can return immediately to their normal lives.
How does it work?
Aluminium oxide crystals are being released to the skin and with suction the dead outer layer of skin is removed providing a young, fresh, smooth and glowing skin.
Does it hurt?
There might be a mild discomfort while going through this procedure, but no pain.
How many sessions do one require?
Number of sessions depends on the skin type and skin problems. However 10-15 sittings/sessions with a time frame of about 30-60 minutes will do in most of the cases.
Is the treatment expensive?
Microdermabrasion is a simple procedure and so it's affordable to common people. At Laser Skin-Hair Clinic, the charge is very minimal compared to other centers of its kind.
Micro Dermabrasion
Before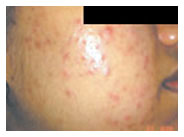 After