Programme for Skin Fairness and Pigmentation
Dull & Uneven complexion, dark spots, discolored and pigmented facial skin, oily surface…Does it sound like your story? Don't you wish to put an end to such instances where your facial fairness is becoming a decision making factor for others?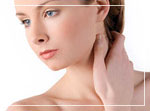 May be it's time for you to visit Dr Thaj Skin-Hair clinic and place a foot towards beauty & confidence. We can help you to boost your fairness and be among the top in your group through various techniques including chemical peeling, peel off whitening masks, Q switched Nd-Yag laser treatment etc. The mode of treatment can only be chosen after determining the severity of the skin fairness issue.
One's complexion may darken due to various reasons such as exposure to UV rays (tanning), cosmetics and topical medicines, following skin diseases, vitamin deficiency, hormone changes and so on. Hence it's always advisable to consult a dermatologist before going for products available in the market.Whole body fairness can be achieved with glutathione which is administered as tablets or as injections. Dark circles (periorbital) pigmentation can also be treated with these procedures and we have a special peel off (under eye) mask for the same.