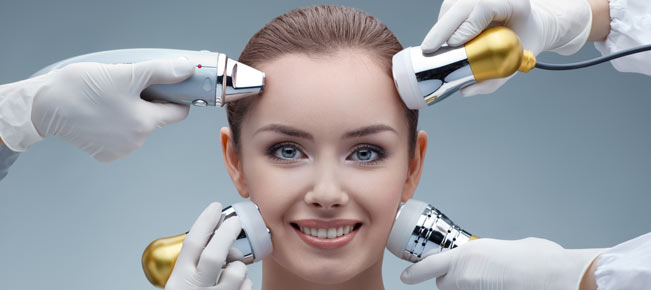 We diagnose and treat common and complex problems of the skin affecting patients of all ages. Also, we provide specialist dermatological services in both the areas of medicine as well as cosmetic dermatology. Our mission is to deliver professional and ethical medical care that is patient-centered.
Our clinics offer a convenient one-stop service to patients in a cozy, quiet and private environment. Using advanced diagnostic and therapeutic services, we provide customized care and treatment to treat you and your family best.
We strive, through a holistic approach, to meet each patient's needs with sensitivity and respect for confidentiality. This is our vision.
Our team of experienced Dermatologists and Skin specialists will see patients with any condition of the skin, hair, and nails. They are trained to treat skin and soft tissue in both cosmetic surgical and non-surgical methods.
We do anything and everything from cosmetology services to complex laser surgeries. Offering laser treatments from the skin to hair and nail to scalp, we established ourselves as one of the favourite laser clinics in South India.
To help in determining the best approach to treatment and management of your condition, a comfortable and confidential environment is provided for you to discuss your health concerns and goals.
Looking and feeling your best is important to us.
Benefits of Laser Surgery
chevron_rightFaster & guaranteed therapeutic results
chevron_rightReduced risks of infection
chevron_rightA much safer surgery than using scalpels (knives)
chevron_rightLess scarring compared to usual surgical methods
chevron_rightBloodless surgery in most cases
chevron_rightLess injuries to normal skin
chevron_rightSafe and effective outpatient surgery for many skin conditions
As experts in skin & hair care, our dermatologic surgeons have extensive training and experience with laser and dermato surgeries. We keep track of latest advances in the field and make use of the newest laser technology available today.
Lasers that we commonly use at Dr Thaj (Cosmetology & Dermatology)
Fraxel Laser: Fraxel Laser columns stimulate the production of younger, smoother, healthier skin by replacing the damaged tissue and is used for treating scars ,wrinkles ,age spots,pigmentation and rejuvenation
CO2 Laser: Applied for skin resurfacing and treatment of acne scars, warts, skin tags, various types of abnormal growths on skin outer surface, seborrhoeic keratoses, moles, syringoma etc.
Pulsed Dye Laser: For the treatment of vascular lesions, scars, keloids, freckles and for photo rejuvenation process.
Q switched Nd Yag Laser: Used for removing tattoos, dermal and epidermal lesions. Also used for photo rejuvenation therapy.
Nd Yag & Diode Laser: Used for permanent hair reduction, mole removals etc
EVLT system : For the non surgical management of varicose veins