Chemical Peeling; for a youthful and glowing skin!
Are you ready to discover the secret to youthful and glowing skin with chemical peels?
Chemical peel, dermatologist chemical peel or dermal peel is a cosmetic procedure designed to improve your appearance and smoothen the texture of your skin.
A Dermatologist chemical peel helps you minimise wrinkles, hyperpigmentation, dullness, scarring acne and rosacea.
Apart from the above mentioned skin conditions, you may get a dermal peeling done to treat a variety of skin disorders such as sun damage, age spots, uneven skin tones etc and provide a fresh and new look to your skin.
Chemical Peel Before and After
Before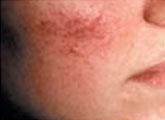 After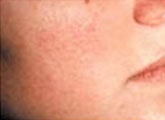 Before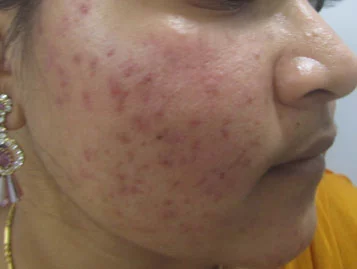 After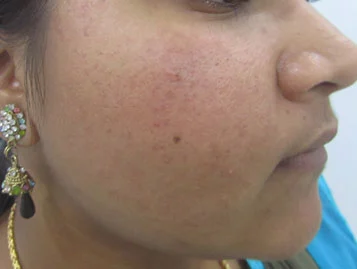 Chemical peeling procedure and benefits
Procedure – How is this done?
If you are really interested and curious about this most popular skin treatment, please read on to know how a chemical peeling procedure is done.
A chemical solution will be applied to your skin as a part of Chemical peel/skin clinic chemical peel procedure and this solution helps to exfoliate and eventually peels off damaged or dull looking outermost layer of your skin.
Below is the step by step procedure of chemical peeling that you may refer to:
Cleaning the skin: As an initial step, our clinician will prepare your skin for chemical peeling procedure.This involves washing your skin with a gentle cleanser followed by further cleaning with surgical spirit or acetone.

Our clinician will remove surgical spirit or acetone using a gauze soaked in normal saline and sensitive skin areas (eyes, nose and mouth) will be protected by applying vaseline.

Applying the peel: In the next step, our clinician will rapidly apply the peeling solution starting with your forehead, then your cheeks, chin, nose and eyes. Our clinician may use a brush, cotton ball, gauze, or sponge to apply the peeling solution.
Removing the peel: In the final step, you will have the peel on your skin removed by our dermatologist or Aesthetician after a contact time of 2-5 minutes. Our dermatologist or Aesthetician will examine your skin condition and use a neutralizer or water to remove the peel.
After the peel is removed, a lotion or cream will be applied to soothe your skin.
Benefits of Chemical peeling
Now let's explore how chemical peel can benefit you endlessly, provided it is performed by our trained healthcare professional.
Here are a few benefits that you can experience with chemical peel:
Reduce or remove red spots or blemishes on your skin
Improves your skin texture
Lighten your skin tone
Reduce your fine lines and wrinkles
Removes your age spot
Manages your acne and
Improves your skin hydration.
Types of chemical peeling and procedures we do at Dr. Thaj Clinic
Types of chemical peeling
Now let's discover the different types of chemical peeling that can transform your skin!
Whether you are looking for a deep resurfacing or a gentle exfoliation, there's a chemical peel for you.
You may find several types of peeling available and the most popular ones are classified as:
Superficial peels: With Superficial peels, you will experience little to no downtime and they are generally well-tolerated.Our dermatologist or Aesthetician will use mild acids like alpha-hydroxy acid (AHA) or beta hydroxy acid (BHA) to exfoliate and remove the damaged or dull outermost layer of your skin.
Medium peels: If you are looking for an acne treatment to remove scars, medum peels is the right option for you. These peels penetrate deeper into your skin and remove your skin's outer layers.Medium peels use stronger acids such as glycolic acid or trichloroacetic acid (TCA) and require a few days of downtime to allow your skin to heal and peel.

Once a TCA peel for acne scars procedure is completed, you may follow proper post peel instructions to minimise the risk of complications and to achieve the optimal result.

Deep peeling treatment: If your skin is damaged by the sun, scars or you have deeper facial wrinkles or pre-cancerous growths, deep facial chemical peel might be the right choice for you.

Our dermatologist or aesthetician will carefully examine your skin and determine if you are a good candidate for deep peeling treatment.​​​​

Arginine peel: With an arginine peel, you can enjoy the benefits of using a chemical peel that incorporates arginine, a naturally occurring amino acid as the primary agent. Anginine peel can improve your skin elasticity and increase your skin hydration.
Glycolic peel treatment: Glycolic peel treatment or Glycolic acid peels are considered as one of the best skin peeling treatments for fairness and are highly effective for removing black heads, white heads and pimples from the skin.
If you are looking for a skin peeling treatment for fairness, Glycolic peel treatment or Glycolic acid peels may be one of the best options to consider.These treatments are highly effective in removing blackheads, whiteheads, and pimples from your skin.
Chemical peel procedures performed at our clinic
In the previous paragraphs, we have discussed in detail about the different peeling methods.
Now let me explain to you the most commonly performed peeling methods at Dr Thaj clinic which are Glycolic Acid (GA) peel, Salicylic acid peel and TCA or trichloroacetic acid peels that you may be interested in.
Glycolic Acid (GA) peel: With a Glycolic Acid(GA) peel, you can treat pigmentation, fine lines, wrinkles, and rejuvenate dull or rough skin. This type of chemical peel is particularly effective for acne scars, reducing their appearance and giving your skin a fresh look.

Chemical peel for scars or peel for acne scars ​​that uses alpha-hydroxy or beta-hydroxy acids, helps you exfoliate the top layer of skin and promotes the growth of your new skin cells.

Salicylic acid peels: This peeling method helps you to reduce oily skin, acne, post-acne pigmentation and open pores
TCA peel for hyperpigmentation: TCA peel for hyperpigmentation helps you to treat freckles, post-inflammatory hyperpigmentation and melasma.
If you are considering a chemical peel, it's always advisable that you consult with a qualified healthcare professional to determine the appropriate type of chemical peel.
Post peel care and side effects
Post peel care – Points to keep in mind
Just like choosing the right chemical peeling method that is suitable for your skin, it's equally important for you to follow strict post peel care methods as advised by our doctor.
If you have undergone a chemical peeling procedure, always keep in mind that post-peel care is very crucial for you to get the desired result and proper skin care helps you minimise any risk of complications that may occur after a chemical peel.
Please read a few important points I have listed below which you may have to remember once your chemical peel procedure is completed:
Always keep the skin clean and hydrated: In order to keep your skin hydrated and to prevent from dryness or irritation, you may use a gentle cleanser and apply moisturiser regularly.
Abstain from exposure to sun: After post procedure, it's always advisable for you to avoid exposure to direct sunlight and wear broad-spectrum sunglasses with a minimum SPF 30.
Avoid picking or peeling the skin: Since picking or peeling the skin may increase the risk of infection and scarring, you may avoid this once the chemical peel procedure is completed.
Avoid using harsh skincare products: It's advisable for you to avoid using any harsh skincare products such as exfoliants or retinoids for a minimum of one week as it may cause increased irritation to your skin.
Abstain from strenuous jobs or exercise: Since sweating may cause irritation and increase the risk of infection, you may avoid strenuous jobs and exercises.
Follow the instructions provided to get the optimal result: You may always remember to follow post-peel care instructions given by your healthcare professional.
Followup appointments: You may do follow up appointments with your doctor to monitor your skin's progress and raise any concerns (if any).
Note: Inorder to get optimum results, you can repeat mild and medium chemical peeling at 2-4 weeks intervals.
Chemical peeling – Side effects
Now that you have a good understanding of what a chemical peel is, as well as the different chemical peeling methods currently available and the necessary post-chemical peel care, let me tell you about the side effects of chemical peeling.
If the procedure is done by our experienced dermatologist or aesthetician, the side effects of chemical peeling are minimal, however, you may notice persistent redness along the treated skin area that can last for a few months, as well as temporary darkening or lightening of the skin color (usually with medium and deep peels).
If you want to minimize the risk of infection or scarring, it's important to follow the post-chemical peel care instructions provided by our dermatologist or aesthetician.
You may please keep in mind that Infection or scarring may increase if you:
Fail to protect your skin from the sun
Scratch your treated skin or pick off a scab
Apply makeup before your skin heals
Fail to care for your wound as instructed
Don't heed our dermatologist's advice, and use a tanning bed or other type of indoor tanning.
To conclude, chemical peels can help you treat a lot of skin conditions and the procedure is generally safe if performed by our experienced dermatologist or aesthetician.