For a youthful and rejuvenated look!
Chemical peeling involves the application of chemicals to the skin for a short duration ,to remove the outer layers of skin which in turn helps to improve its function & appearance. It can be very superficial,superficial, medium or deep. At our centres, we use several peeling agents either alone or in combination depending on the problem and skin sensitivity. A professional chemical peeling treatment helps you by:
Reducing or removing of red spots or blemishes
Rejuvenating the skin from Sun damage
Managing acne
Skin Lightening
Improved collagen(building block of skin tissues) growth
Age spot removal
Faster Recovery/Results
Can be done on all skin types
Chemical Peeling
Before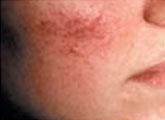 After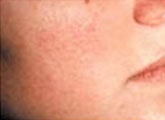 The most commonly used peel at Dr Thaj Laser Skin Hair Clinic is the Glycolic Acid (GA) peel, safe for all skin types. Peels are useful to treat acne, acne scars, pigmentation, fine lines and wrinkles, besides pepping up dull looking and rough skin.
Salicylic acid peels help to reduce oily skin,acne, post-acne pigmentation and open pores. TCA or trichloro acetic acid peels are useful to treat freckles, post-inflammatory hyper pigmentation and melasma. Combination peels include arginine peels (arginine and lactic acid) lactic acid and retinol, pyruvic peels, citric acid, kojic acid ,modified Jessner's peel and lactic acid and kojic peels. These peels are performed at 10-15 days intervals and are usually combined with micro dermabrasion for better results.