Skin Tightening Treatment (Anti-ageing)
Wrinkles, fine lines, loose, saggy skin, dull complexion, and the list goes on – these are some of the signs of ageing that are too obvious to be hidden by few strokes of foundation or concealer.
Skin Ageing facts
Skin ageing describes the changes in the appearance and characteristics of the skin that occur as people get older.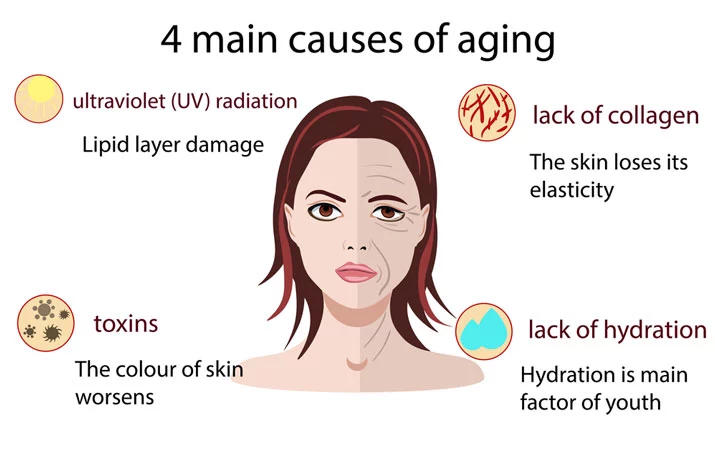 It is a complicated biological process influenced by a combination of intrinsic (natural ageing) and extrinsic (sun exposure, smoking) factors; both show up visibly with the same results, yet extrinsic ageing is the one that we can fight against.
Together, these factors result in structural, physiological alterations and progressive changes in each skin layer and changes in skin appearance, especially on the sun-exposed skin areas.
In contrast to thin, finely wrinkled and dry naturally aged skin, premature photoaged skin typically shows a thickened epidermis, mottled discolouration, deep wrinkles, laxity, dullness, and roughness.
Gradual loss of skin elasticity leads to the phenomenon of sagging. Slowing of the epidermal turnover rate and cell cycle lengthening coincides with slower wound healing in older adults.
As you age, not only your face but your whole body starts getting affected by this normal process.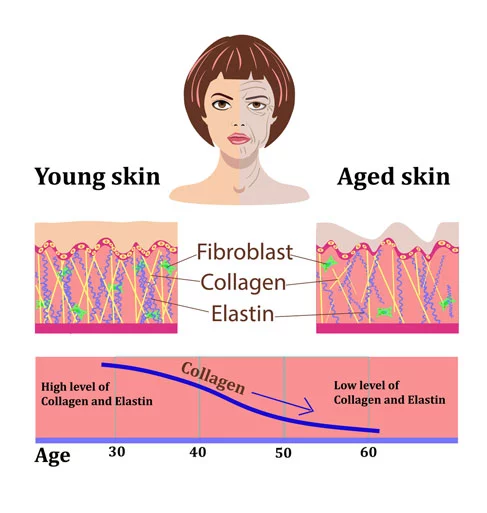 Many people get their hands on attractive-looking skin-tightening creams or anti-ageing lotions that seem to "reverse" the signs of ageing as if these were some "magic potions".
Instead, there are better, more sensible solutions to address a matter as complex as ageing.
Anti-ageing therapy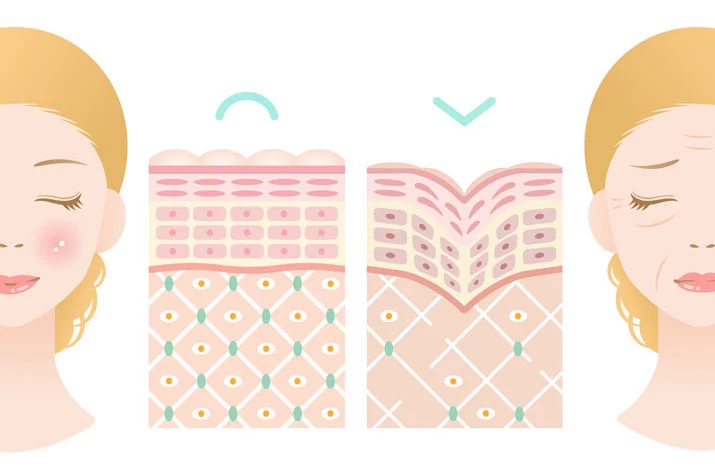 Any anti-ageing treatment or skin tightening treatment aims to accomplish healthy, blemish-free and smooth skin.
In clinical parlance, "to look better" doesn't intend to "look more youthful." Hence, we listen to you and orient you to a specific therapy that will give you the most fulfilling results.
Your age, medical history, general well-being status, skin type, lifestyle, and numerous other factors are to be contemplated before picking the methodology for the individual case.
The desired therapeutic anti-ageing effect of the skin is a continuous, step-by-step process that combines various skin bio-revitalization and rejuvenation, augmentation, and restoration of each skin layer individually.
How to go about "skin tightening" ?
As your skin starts ageing, the appearance of loose and sagging skin, wrinkles, and lines often become a problem and somehow, you want to get rid of them.
Modern innovations in dermatology have come up with careful and futuristic solutions to help you get the best of your skin.
Our dermatologists have combined years of experience in clinical research and practice to optimise anti-ageing procedures that help improve the overall form and texture of the skin.
We offer advanced skin tightening methods in our clinic, including the latest non-surgical treatment from head to toe.
When should you consider Non-surgical treatment?
Non-surgical skin tightening turns into a good possibility if you have mild to moderate loose skin on your face and neck or if you have lingering skin laxity after an operative procedure.
It should also be considered if you would like to improve the quality of your skin and if you are unwilling to undergo a more invasive facial cosmetic surgery solution like a facelift or neck lift.
One of the advantages of choosing a non-surgical skin tightening procedure is that it is performed with no incisions, with minor discomfort and has little to no downtime. It is perfect for all skin types, unlike other treatments, e.g., laser treatment, in which a person's pigmentation must be carefully considered.
Some of the cons to consider are that the results will be less dramatic than those obtained with a facelift, brow lift, and neck lift.
Another consideration is that there can be skin redness and temporary swelling or numbness around the treated areas following the skin-tightening procedure. However, most clients find that they can still go about their daily routine, affecting their schedule.
If you want to focus on what is unique to you, please book an appointment with a dermato-surgeon at our clinic.
Skin tightening procedures
Before the procedure begins, the area to be treated is cleaned of makeup and skin lotions.
Your dermatologist may advise topical anaesthetic creams depending upon treatment mode, area, and unique needs. Based on the type of your skin and the region being dealt with, your skin specialist may pick one of the following treatments.
Ultrasound skin tightening
(Ultherapy treatment / High-intensity focused ultrasound – HIFU)
Ultherapy treatment uses safe and time tested ultrasound energy to lift and tighten the skin naturally without surgery or downtime. It helps to achieve a fresher, more youthful look from your brow to your chest.
Read more on Ultherapy
Preparing for a non-surgical skin tightening procedure
You are advised to stop smoking for at least six weeks before undergoing treatment to promote better healing.
Please avoid taking aspirin, other anti-inflammatory drugs, and herbal medications that might result in bleeding.
Avoid using skin products to decrease the risk of complications from treatment.
Keep yourself hydrated, as it is pretty crucial before and after surgery for safe recovery.
Although non-surgical skin tightening is usually performed on an outpatient basis, please arrange to have someone drive you home after your treatment and to stay with you at least the first night following your procedure.
Radiofrequency tightening
Non-ablative radiofrequency devices are commonly used for skin tightening and body contouring. There are a number of RF devices available like Thermage, fractional RF , Exilis, Velashape etc.
Thermage: It is a safe, non-invasive radiofrequency cosmetic procedure that helps to improve skin. It treats fine lines and wrinkles on body parts, including the face, neck, eyes, arm, hands, tummy, thighs, and buttocks.
Therefore, it is regarded as one of the most effective skin tightening procedures for the body.
It also has the potential to smoothen out uneven skin and is clinically proven to be safe. The best thing is that it gives you the best results you can't get from lotion and skin tightening creams.
It has minimal downtime, so it is pretty easy to fit into your routine, and you can see results even after a single treatment.
The thermage treatment is a simple procedure. The area to be treated is highlighted.
A specially designed treatment tip is placed on the skin to be treated. Then, the specialist enables Radio Frequency energy to go underneath the skin tissue to activate the collagen production.
The upper layer of the skin is cooled down, which calls for a successful treatment. The patient feels cooling and heating sensations without any prick or any pain.
The unique radio frequencies produced safely heats the inner skin layers fastening new collagen growth and stimulating the existing collagen simultaneously.
You will feel a gentle vibration as well as cooling and heating sensations during each pulse. Radiofrequency energy, when used, tighten the collagen in the skin, thereby filling out wrinkles and fine lines.
The system targets all three layers of facial skin to keep the skin rejuvenated and healthy for years.
Benefits of RF skin tightening Treatment
Face
Tightens floppy jaws and skin under the chin
Redefines reframes & contours jawline
Improves texture and tone over the entire face
Eyes
Reduces fine lines and crow's feet on face
Smoothens and tightens skin on the eyelids and around the eyes
Arms
Tightens loose skin (perfect for post-pregnancy and after liposuction surgery or weight loss)
Improves skin texture and skin tone
Tummy
Tightens loose skin and provides a standard shape for your abdomen
Improves skin texture and tone around the abdomen area
Contouring and cellulite reduction
Hands
Improves texture
Improves skin thickness
Reduces and smoothen wrinkles
If you compare the cost one may have to spend on other alternative treatments, results from RF treatment is worthy and last long for up to 6 months. Moreover, you can notice the improvements immediately.
After treatment, you can get back to your everyday life, so no downtime. Unlike other laser treatments, It is colour blind and can work on any skin type or colour.
Intense pulsed light – IPL
Intense pulsed light (IPL) therapy is a non-invasive and non-ablative treatment that uses high-intensity pulses of visible light to improve the appearance of the skin.
Your eyes will be covered with eye covering if your face is treated. A handpiece is used to administer continuous cooling while an infrared light heats the deep dermis (deep layer of your skin). And one or more passes may be performed.
Radiofrequency and intense pulsed light treatments heat only the deep layer of your skin. The epidermis or outer skin layer is not damaged.
Your body's natural wound healing response causes collagen changes in the skin, resulting in skin tightening.
A series of treatments is usually performed.
Although the results are not as dramatic as a facelift, over 90% of patients obtain noticeable tightening of the treated areas, and it never looks "pulled."
The procedure can be repeated every 1-3 years as needed to maintain the results.
Choose the best skin tightening treatment for you
If you want to know how to tighten loose skin anywhere on the body without surgery, don't waste your time searching for substandard skin tightening creams.
Our clinic is equipped with state-of-the-art skin tightening machines that will help you get the best defence against the signs of ageing and premature ageing.
For further info, it is best you book an appointment with our dermatologist and have a detailed talk about your skin problems, the procedures, and everything you need to know about the skin tightening procedure to solve it.