For a smooth, relaxed and visibly refreshed eye contour
Tired of wrinkles formed around the eye area? Are those dark circles making you look tired and less impressive than you actually are?
Skin around your eyes is more subjected towards ageing making you look older than you actually are. As the time passes on, say when you are in between 30-35, due to the skin loosening process, your facial skin develops wrinkles and can see finely visible lines around your eyes. We @ Dr Thaj Laser Skin Hair clinic offers an assortment of treatments to overcome these issues caused and maximized by today's climatic variations, increasing temperatures and atmospheric pollution.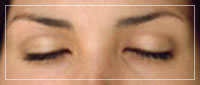 Botulinum toxin injections, Radiofrequency, Anti Ageing creams, Chemical Peeling, Pulsed Dye Laser, Fractional laser treatment etc are some treatments that we offer to reduce or wipe off the wrinkles formed around your eyes. Without conducting any surgeries, Radiofrequency treatment helps to smooth & tighten your facial skin reducing the wrinkles, under eye-bags and hooding. Dark circles formed around your eyes make you look exhausted and less impressive. These dark pigmentations around the eyes can be effectively managed with our effective medication, peel-off masks and the Q-switched Nd-yag laser. To improve the results and rejuvenate your skin, chemical peels can be combined with above mentioned procedures.