Take off those unwanted hairs forever !
Are those unwanted hairs causing trouble for you?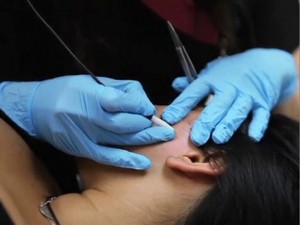 Feeling uncomfortable in social events due to the excessive growth of hairs on your chin, cheeks, legs, fingers, back, upper lips, lower abdomen feet, toes or bikini lines? Stay confident now, we have a permanent hair removal solution, a solution that could change the way people look at you. Whilst electrolysis, one thing we need to make sure is that you are doing it with a certified professional dermatologist who has considerable experience in this field.
At Dr Thaj Laser Skin Hair clinic, we perform thermolysis – electrolysis which is the process of using heat to kill the unwanted hair roots. Thermolytic electrolysis is much simpler and easier than the traditional electrolytic method, less painful & no discomfort. Since lasers cannot remove white or grey hairs, we combine the electrolytic process with laser hair removal to obtain the best results at times.