A bright smile can transform the way you see the world and yourself. Losing your natural teeth due to traumatic injury, decay, or any reason may hurt your self-esteem. Our dental team makes implants for men and women of all ages.
We replace severely damaged or missing teeth, so you can enjoy a better and more confident smile and eat comfortably.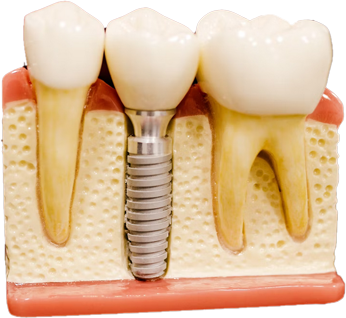 What are dental implants?
Dental implants are metal fixtures, often made out of titanium, surgically fastened to the upper or lower jawbone so that artificial teeth can be mounted on it. They are strong, stable teeth that look, feel, and function like natural teeth.
The implant placed inside the jawbone serves as the root of your new tooth. Once the implant in the mouth has fully osseointegrated, we place a custom-made crown onto the implant.
Since dental implants fix directly to your jawbone, they are solid and stable and will not shift around uncomfortably in your mouth like some dentures.
These implants help crowns, bridges, and dentures to stay firmly affixed to your Jaw.
What are the benefits of dental implants?
In addition to performing, looking, and feeling like your natural teeth, dental implants provide the following benefits:
It replaces your missing teeth;
t's a permanent solution for missing teeth;
It helps to maintain the shape of the face;
Preserves your jawbone health;
Is strong and durable for chewing food;
Helps natural speech;
It firmly attaches to the bones and has no chance of a slip or shift like denture teeth;
It always supports adjusting teeth;
It's pretty easy to maintain oral hygiene.
If you have additional questions about dental implants, please call us at 9744441100.
Am I a good candidate for dental implants?
You can be a good implant candidate if you lost just one tooth, a couple of teeth or completely lost upper and lower teeth but have healthy gums and matured jaw bones.
Anyone looking for a more permanent and long-lasting solution for replacing or rehabilitating missing teeth is an ideal candidate for dental implants. However, it is not a good solution for children below 18 years.
What steps are involved in dental implants?
1. Evaluation
During the initial visit, we perform a complete and thorough evaluation diagnosis using Radiovisiography (RVG) or Orthopantomogram (OPG).
We may advise Cone beam computed tomography (CBCT) to assess your current bone, soft tissues and adjacent tooth level status and provide a comprehensive, personalised diagnosis with the best treatment options. It helps us to choose the right size and length of implants.
In addition, we look at your medical history to know your current health status and may advise some blood investigations.
2. Surgical Intervention
First visit:
After the evaluation, if you are fit for the procedure, we proceed with placing the implant. It is usually a minor surgical procedure.
The patient is given local anaesthesia before the procedure, and the dental implant is placed into the jaw bone.
You may experience some kind of discomfort and soreness after the procedure, as with any dental surgical procedure like tooth extraction. However, this will not last for more than a few days and is usually well-handled with analgesics and antibiotics.
For the next three to six months post-implant surgery, the implants are beneath the surface of the gums. They will gradually form a connection with the jawbone and osseointegrate.
During this period, you will be able to wear temporary dentures or temporary crowns, and you can consume a soft diet. We suggest you not smoke during this period.
Second visit:
During your second visit, usually after 3 to 6 months, when the implant osseointegrates completely to the jawbone, we uncover the gums covering the implants and attach a small healing collar over it. This step also involves taking an impression for the definitive crown. In completely edentulous cases, we start the steps involved in making a complete denture by taking an impression and sending it to the laboratory.
3. Placement of the prosthesis
In this appointment, we place a definitive crown as the final prosthesis on the Implant. In completely edentulous cases, we give a complete denture.
4. Continued maintenance
According to post-implant placement protocol, we advise you to do an annual visit to check and make sure of the health and vitality of your implant and surrounding soft tissues.
Sometimes, some features of your mouth can make dental implant placement more difficult. This includes bone or periodontal defects that make implant placements difficult. But we are here to help you to solve these complex cases.
Take your first step to get your implant and smile confidently. Schedule an appointment with DR Thaj Dental Care today!
How long does an implant last?
The implant can last a lifetime if properly maintained. Usually, we recommend cleaning every six months. Also, we advise supporting suitable oral hygiene methods like brushing, flossing around, and avoiding smoking.
Can I replace all my teeth with implants?
Yes, you can replace all your teeth with an implant if you have sufficient good-quality bone around the upper and lower jaw.
How many teeth can you put on one implant?
You can place one tooth on one implant. If it's an implant-supported denture 2, 4 implants are enough.
How long after tooth extraction can I get an implant?
There are two approaches:
Immediate Denture- The same day after the tooth extraction, the implant can be placed directly over the extracted site.
Delayed Loading- After 3 to 6 months of extraction, the implant can be placed in this method.

What is better, root canal treatment or implant?

It's always better to undergo root canal treatment and save the tooth rather than go for an implant. Root canal treatment will preserve the periodontal ligaments and maintain bone tooth integrity.

What happens if you don't get an implant after tooth extraction?

If you don't get an implant even after 12 months of extraction, bone loss will occur on your jaw bones, and surrounding teeth will shift to the extracted site. If a tooth shift happens, only orthodontic treatment can correct it.

Do dental implants get cavities?

Dental implants don't get cavities because they're made of Titanium.