Hydrafacial to improve the signs of ageing
A hydrafacial is a non-invasive skin resurfacing treatment involving skin cleansing, exfoliation, extraction, hydration and antioxidant protection. It removes dead skin cells and impurities, simultaneously delivering moisturizing serums into the skin.
The treatment uses patented technology combined with nourishing ingredients to reduce fine lines, wrinkles and makes your skin more hydrated, bright, and plump. The results are long-lasting.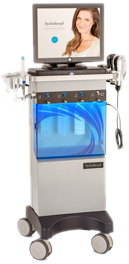 Why should you choose Hydrafacial?
It is effective for every skin type
Results are immediate
No downtime, no discomfort either
Addresses specific skin concerns
It is a non-invasive procedure
Reduces the appearance of fine lines and wrinkles
The following skincare needs are addressed viz.,
Fine lines + wrinkles
Elasticity + firmness
Skin texture
Brown spots
Even Tone + Vibrancy
Congested + Oily skin
Enlarged pores
Quick 3 Steps treatment under 30 minutes
Cleanse + Peel
Uncover a new layer of skin with gentle exfoliation and relaxing resurfacing.
Extract + Hydrate
Remove debris from pores with painless suction. Nourish with intense moisturizers that quench skin.
Fuse + Protect
Saturate the skin's surface with antioxidants and peptides to maximize your glow.
We may boost your treatment with HydraFacial Super Serums to address specific skin concerns.
Derma builder boost
Minimizes signs of ageing and recharges skin with a combination of peptides
Growth factor boost
Minimizes the appearance of fine lines and wrinkles to restore skin health and vitality
Britenol boost
Minimizes the appearance of sunspots for an even complexion.
Hydrafacial perk to refresh your lips & eyes
The lip & eyes treatment uses patented, roller-flex technology to exfoliate and hydrate lips. It provides immediate and long-lasting results. The treatment includes an in-office treatment + a take–home serum for daily application.
Hydrafacial for a healthy scalp; healthy hair
HydraFacial keravive is a unique, relaxing treatment designed to cleanse, stimulate, nourish and hydrate your scalp for fuller and healthier-looking hair.
Cleanse and Exfoliate
Its vortex technology extracts dirt, oil and impurities from the scalp and hair follicles while stimulating circulation.
Stimulate and Nourish
HydraFacial Keravive Scalp Health Solution infuses a proprietary blend of growth factors and skin proteins to promote a healthy scalp.
Extend and Enhance
The HydraFacial Keravive Scalp Health Spray enhances the benefits of the in-office treatment and delivers daily nourishment.
The hydrafacial treatment is under the supervision of one of our dermatologists, the rest is assured, your skin will look youthful. Please make an appointment with our skin doctors today.