Slow down your ageing process !
Dermal fillers are the quickest and safest way to rejuvenate your face without having to go through a surgery or a general anaesthetic. Dr Thaj Laser Skin Hair Clinic has access to a wide variety of dermal fillers. And the message we would like to give you while engaging in any treatment with us is "Don't Worry, You are safe with us". We have a highly skilled team guided by world class professionals who are well experienced with Cosmetology & Dermatology.
Using Dermal Fillers, we can:
Correct wrinkles and folds
Correct asymmetries on face
Enhance or correct lip size & shape
Improve scars
Fillers are biodegradable materials injected into the skin for the correction of static wrinkles (folds) and depressed scars. The most commonly used fillers are gels made from hyaluronic acid (a carbohydrate) and Collagen (a protein), these are not permanent though. Depending upon the quality and the type of filler used, they might last from 6 months to 2 years. Side effects are very mild and are resolved within few hours. Both permanent and semi-permanent fillers are available at our laser treatment centers throughout South India.
Volumisers are used to augment cheeks and other depressed contours of the face.
Before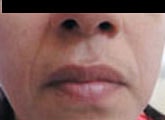 After