Dermal fillers; bring back fullness in your face
Dermal fillers are gel-like substances injected beneath the skin to restore lost volume, enhance facial contours, and fullness in the face.
As we age, we naturally lose subcutaneous fat, and our facial skin stretches a bit. The muscles then work closer to the skin surface, and facial lines become more evident.
It is the quickest, safest, and cost-effective way to rejuvenate your face without having to go through surgery or a general anaesthetic.
What can dermal fillers do?
Soften wrinkles and folds
Enhance shallow contours
Correct asymmetries on the face
Enhance or correct lip size & shape
Improve the appearance of recessed scars
Decrease or remove the shadow of the lower lids
Dermal fillers can benefit those with early signs of ageing or as a value-added part of facial rejuvenation procedures.
What are fillers made of?
The fillers are usually categorised by the substance they are made from. There is a variety of fillers that cosmetic dermatologists use.
The most commonly used fillers are gels made from hyaluronic acid (a carbohydrate) and Collagen (a protein); these are not permanent, though.
Dermal fillers – Before and After
Before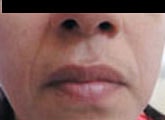 After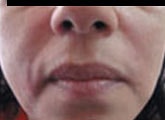 How long do dermal fillers last?
Depending upon the quality, where on the body is injected, and the type of filler used, dermal fillers might last from 6 months to 2 years.
Side effects are very mild and are resolved within few hours. Both permanent and semi-permanent fillers are available at our laser treatment centres throughout South India.
The volumisers are used to augment the cheeks and other depressed contours of the face.
If you wish to plump up your thin lips, soften facial lines, remove wrinkles and improve the appearance of facial scars, please make an appointment with our skin doctor near you.