Skin Fairness and Pigmentation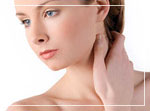 Does the following sound like your story? A dull, uneven complexion, dark spots, discoloured, pigmented facial skin, with an oily surface. Don't you wish to improve your skin?
Who wouldn't want to look and feel at their best during functions like weddings or corporate meets or interviews or important client meetings?
Maybe it's time for you to visit our clinic and move afoot towards beauty & confidence.
Everyone agrees, beauty adds confidence and self-esteem.
Our team would help boost your complexion through various techniques, including chemical peeling, peel off whitening masks, Q switched Nd-Yag laser treatment etc.
We have tailored a unique face glow programme (package) to enhance your looks, creating a radiant appearance leaving you all set with confidence for the special occasion you have been waiting for.
Your complexion may darken due to many reasons such as exposure to UV rays (tanning), cosmetics and application of topical medicines like skin fairness creams for an extended period. Skin diseases, vitamin deficiency, hormone changes may result in dark pigmentation too.
Depending on the severity of the skin fairness issue, your dermatologist would advise the mode of treatment. We offer the following procedures to make your skin brighter and smoother.
INNO PEEL/THAJ PEEL
Medifacial
Laser peel
Platelet Rich Plasma therapy (PRP)
Glutathione injection
The treatment includes skin tightening followed by peels or microdermabrasion. Finally, the skin is hydrated and massaged with different serums, delivered into the skin using an O2 jet therapy system.
Your doctor may administer glutathione tablets or injections for your whole body fairness. For dark circle (periorbital pigmentation) a special peel-off (under eye) mask can help when combined along with chemical peels.
Mesobotox / micro botox treatments also help create glowing skin within a short period. Hyperbaric oxygen therapy (Madonna peel) helps to make the skin soft and bright.