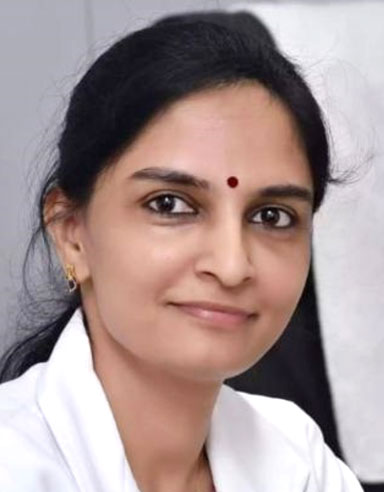 Dr Jyothy. K is a Consultant Dermatologist, at Dr Thaj Laser Skin & Hair Clinic, Coimbatore. She is one of Tamilnadu's well-known practitioners of skin, hair & nail diseases, and cutaneous lasers.

Dr Jyothy has been practising Dermatology for over 21 years. Dr Jyothy's area of interest includes medical, surgical management of dermatological conditions, laser procedures and cosmetic dermatology.
Dr Jyothy graduated from Trichur Medical College, Kerala with a medical degree (MBBS – 1994) and received her post-graduate diploma and degree (MD – Doctor of Medicine 1999) from Calicut Medical College, Kerala in Dermatology, Venerology and Leprology.
A well-known regional speaker in cosmetic, medical dermatology and especially on the latest laser treatments, she is invited to join as a panelist on laser procedures and cosmetology..
In addition, she held many workshops, notably, on Pulsed Dye Lasers at PSG Institute of Medical Sciences (PSGIMSR), on Endovenous Laser Therapy (EVLA – varicose veins treatment) at ASICON 2014, on Fractional CO2 Laser Resurfacing (treating skin issues) at ASICON 2018 etc.
She regularly gives public presentations on cosmetic dermatology in conferences viz., Presented a paper on Autologous Heamotherpay + PDL at National Conference (2008) held in Bangalore, presented papers and delivered a talk on EVLA ASICON Wynad 2014, ASICON South 2018, ASICON Daman 2018, CUTICON Tamilnadu 2018 (Kodaikanal) etc.
Currently, she is a member of the IADV SIG- LASERS group.
Dr Jyothy's research articles are publicly available viz.,
Treatment of Port-Wine Stains with Flash Lamp Pumped Pulsed Dye Laser on Indian Skin: A Six-Year Study. J Cutan Aesthet Surg. 2014 Jan-Mar; 7(1): 32–36.
Treatment of xanthelasma palpebrarum using pulsed dye laser: Original report on 14 cases. J Cutan Aesthet Surg. 2019 Volume : 12 Issue : 3 Page : 193-195
Dr Jyothy's Membership
Life member – Association of IADVL
Life member – Association of Cutaneous Surgeons of India
With a wealth of clinical and surgical experience under her belt, Dr Jyothy continues to lecture and train other dermatologists and plastic surgeons in the areas of Lasers & Non-invasive aesthetic procedures.
Call +91 9360767789 to book an appointment with Dr Jyothy.